[Herald Interview] GreenPureTech seeks to provide the world with hospital beds
입력

2021. 1. 22. 18:16
수정

2021. 1. 25. 09:50
글자크기 설정
파란원을 좌우로 움직이시면 글자크기가 변경 됩니다.
이 글자크기로 변경됩니다.
(예시) 가장 빠른 뉴스가 있고 다양한 정보, 쌍방향 소통이 숨쉬는 다음뉴스를 만나보세요. 다음뉴스는 국내외 주요이슈와 실시간 속보, 문화생활 및 다양한 분야의 뉴스를 입체적으로 전달하고 있습니다.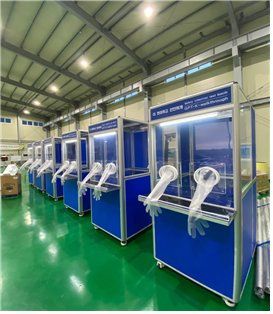 A lack of hospital beds has been one of the painstaking points of COVID-19 pandemic as more and more medical institutions around the globe become overwhelmed with patients amid the relentless spread of the coronavirus.
GreenPureTech., a Seoul-based medical equipment provider, hopes to provide quick relief to this bed crunch and contribute to saving more lives.
According to CEO Lim Hyung-bo, the company is an unrivalled leader in the field of movable negative pressure rooms in South Korea, with a 26-year history and the 2020 invention "glove wall" COVID-19 testing booths.
"Green Pure Tech is the original of every transmission-preventive walkthrough (testing centers) you see on Korean media," Lim said, "Countless companies and academic institutions are claiming to have come up with a breakthrough invention, but GPT has been at the forefront of it all."
Currently, GPT has the capacity to set up 10 negative pressure rooms a day, with each room able to accommodate two to three patients. These rooms are complete with showers and negative pressure maintenance. But a system more optimal and easier to transport is being developed for interested countries, Lim said.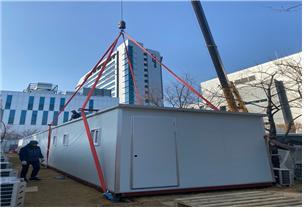 "We are in talks with potential partners in the US, Brazil, Indonesia and more," Lim said.
GPT's history is closely tied with South Korea's hospitals. The company has been responsible for equipping renowned medical facilities of the country with "negative pressure clean benches" used at diagnostics departments to block out viruses and germs during laboratory testing.
The company's first steps began after patenting that device, and then building negative pressure rooms for hospitals.
GPT was the first in Korea to develop mobile negative pressure rooms after the outbreak of Middle Eastern Respiratory Syndrome in the country in 2015.
By 2020, when the nation was hit with the COVID-19 pandemic, GPT had readily rolled out innovative new products such as mobile walkthrough stations and glove walls.
"We could not take a single day off last year due to the pressing needs for our products," Lim said.
GPT's patented glove walls are transparent glass walls with gloves protruding out of them, allowing medical professionals to interact with infectious patients without having to repetitively wear and take off protective gear in unfavorable climates.
A medical professional only needs to insert his or her hands in to the glove to treat a patient on the other side of the glass. On either side of the glass, temperatures are controlled at optimal levels, with negative pressure on one side and positive pressure on the other side completely blocking any possible transmission of a virus.
The idea caught on as a brilliant alternative to hazmat suits which can be suffocating in hot weather.
GPT is currently cooking up other projects for imminent global launch, Lim said, but details remain top-secret.
GPT is located in Hagye-dong in Nowon-gu, northern Seoul.
It manufactures its products at its own factory in Hwaseong, Gyeonggi Province. Once global deals materialize, GPT may consider manufacturing parts in factories overseas, said Lim.
By Lim Jeong-yeo (kaylalim@heraldcorp.com)
<ⓒKoreaHerald(www.koreaherald.com)무단전재 및 재배포 금지>
Copyrightⓒ Herald Media INC. All rights reserved.