[News analysis] The 3 big clues in Blinken's comments on relations with N. Korea
한겨레
입력

2021. 1. 22. 17:46
글자크기 설정
파란원을 좌우로 움직이시면 글자크기가 변경 됩니다.
이 글자크기로 변경됩니다.
(예시) 가장 빠른 뉴스가 있고 다양한 정보, 쌍방향 소통이 숨쉬는 다음뉴스를 만나보세요. 다음뉴스는 국내외 주요이슈와 실시간 속보, 문화생활 및 다양한 분야의 뉴스를 입체적으로 전달하고 있습니다.
The future US secretary of state indicates a multilateral approach compared to Trump's bilateral one
Joe Biden was inaugurated as the US' 46th president amid the pandemonium and division in the wake of the Trump administration. At 11:52 am on Jan. 20, Biden delivered a 21-minute inaugural address to the entire world from the US Capitol, in Washington, DC.
Biden made two main appeals in his inaugural address. First was a message of unity, backed by his pledge to heal the divisions of a society that has been torn apart by hatred and rage for one another. Second was the need for rebuilding alliances by reassuring major countries who had been offended by Trump's "America first" position.
"We will repair our alliances and engage with the world once again. [. . .] We will lead [the world] not merely by the example of our power but by the power of our example. We will be a strong and trusted partner for peace, progress, and security," Biden pledged.
Biden has long expressed support for America's network of alliances, and in his inaugural address, he left no doubt that he intends to make them the top priority for US foreign policy.
The question of greatest interest for Koreans who desire lasting peace on the Korean Peninsula is what North Korean policy the Biden administration will eventually adopt. Unfortunately, Biden didn't specifically mention the Korean Peninsula in his inaugural address.
To get a hint of what this policy may be, we need to look at the remarks that Anthony Blinken, Biden's nominee for Secretary of State-designate Antony Blinken, made during a hearing before the US Senate Committee on Foreign Relations on Jan. 19.
Blinken was asked about the North Korean nuclear issue during the hearing, which began at 2 pm. But he didn't dedicate much time to the topic, which was crowded out by US policy toward China and the Middle East.
The only person to pose a question about North Korea was Democratic Senator Ed Markey, with the conversation taking up less than four minutes of the four-hour hearing.
Let's take a closer look at what exactly Blinken said about North Korea.
First, Markey asked whether Blinken supported a "phased agreement" in which the US offers "tailored sanctions relief to North Korea in exchange for a verifiable freeze [. . .] on North Korea's WMD programs," with "the goal of ultimately denuclearizing."
Precisely defining the "verifiable freeze" mentioned by Markey would require a tedious debate between South Korea, North Korea and the US. And given the fraught history of the North Korean nuclear talks, they might well break down again during the attempt to define the term.
Setting that thorny question aside, let's turn to Blinken's response. Blinken avoided a direct answer, instead offering the following generic statement.
"I think we have to review, and we intend to review, the entire approach and policy toward North Korea, because this is a hard problem that has plagued administration after administration. And it's a problem that has not gotten better — in fact, it's gotten worse. But I begin by acknowledging the fact that it's a hard problem to begin with. So I think one of the first things that we would do, and we would welcome being able to consult on that is to review the entire approach, look at what options we have and that can be effective in terms of increasing pressure on North Korea to come to the negotiating table as well as what other diplomatic initiatives may be possible. But that starts with consulting closely with our allies and partners, particularly with South Korea and with Japan and others and reviewing all of the bidding."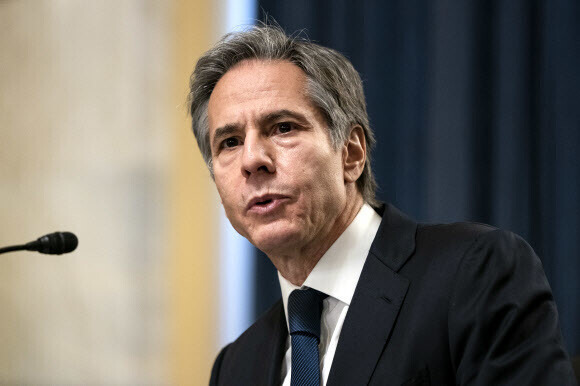 N. Korea is not a top priority for Biden administration
There are basically three lessons that we can take away from these remarks.
First, resolving the North Korean nuclear issue is not a top priority for the Biden administration in its early days. Biden has to deal with the tough question of how to deal with China as the two countries vie for future hegemony.
Major appointees in the Biden administration have indicated that they intend to maintain the basic framework of the "Free and Open Indo-Pacific" advocated by the Trump administration while also cooperating with China on global challenges that require China's help, such as the COVID-19 pandemic and climate change.
The next issue is drawing up a new policy for the Middle East. That would include the Iranian nuclear deal, which Biden was personally involved in during his time as vice president. The deal — from which the Trump administration unilaterally withdrew — is an important legacy that the Biden administration will seek to revive.
But the North Korean nuclear issue is more of a headache for Biden, since the Trump administration made some modest progress on that issue. While bearing that in mind, the South Korean government needs to beef up strategic communication so that the North Korean nuclear issue can become one of the top priorities for US foreign policy.
Blinken will consult with S. Korean counterparts to determine N. Korea policy
Second, Blinken clearly stated that American officials will consult with the South Koreans while determining US policy on the North Korean nuclear issue. Also encouraging was Blinken's remark that the US will explore "other diplomatic initiatives" in addition to the hardline policy of "increasing pressure on North Korea to come to the negotiating table."
In connection with this, South Korean President Moon Jae-in said during his New Year's press conference on Jan. 18 that the agreement that Trump and North Korean leader Kim Jong-un reached in Singapore on June 12, 2018, should be the starting point for North Korea-US dialogue. While the Biden administration isn't likely to accept that exact proposal, Blinken did promise to consult with South Korea, so American officials will at least lend an ear to the South Korean government's position.
The crucial question is how productive communication will be between Suh Hoon, director of the Blue House National Security Office, and Chung Eui-yong, nominee for foreign minister, representing South Korea, and Blinken and National Security Advisor Jake Sullivan, representing the US.
Japan likely to become more involved in negotiations
Third, Blinken said he would consult not only with South Korea but also with Japan in setting North Korea policy. The Korean Peninsula peace process, which began in early 2018, basically came to a halt when Trump walked away from his Hanoi summit with Kim, on Feb. 28, 2019, without a deal.
The extremely negative role played by Japan, which was afraid that it was being sidelined by the other players, has been disclosed in detail in various places, including "The Room Where it Happened," the memoir of former US National Security Advisor John Bolton.
In conversations with Trump on all-day golf outings, then Japanese Prime Minister Shinzo Abe repeatedly told Trump that he shouldn't make hasty concessions to North Korea. One reason for Japan's stance is the almost irreconcilable divide between South Korea and Japan's strategic perspectives on North Korea. But another reason is that there was almost no opportunity for candid communication between South Korea and Japan at a time when their bilateral relationship had reached its worst point since the two countries normalized diplomatic relations.
No matter how energetically South Korea pushes the US to reactivate the Korean Peninsula peace process, the US isn't likely to go along with that against staunch opposition from Japan. In the Indo-Pacific region, the US' number one ally is indisputably Japan, with Korea coming in second.
If South Korea is to improve inter-Korean relations and facilitate North Korea-US dialogue in order to bring lasting peace to the Korean Peninsula, it will have to bring around not only the US but also Japan. South Korea will also need to cooperate closely with China.
Given all these points, we can draw a tentative conclusion about the Biden administration's approach to North Korea. He'll probably opt for "bottom-up" multilateral dialogue and active cooperation with related countries, including South Korea, China and Japan, rather than Trump's "top-down" bilateral dialogue.
With just one year and four months left in office, can Moon solve this complex and challenging problem? The prognosis isn't encouraging, but he still ought to use all available means and give it his best shot.
By Gil Yun-hyung, staff reporter
Please direct comments or questions to [english@hani.co.kr]
ⓒ 한겨레신문사, 무단전재 및 재배포 금지