Former Spurs, PSV star takes on new role as Gangwon CEO
강유림
입력

2021. 1. 17. 16:26
글자크기 설정
파란원을 좌우로 움직이시면 글자크기가 변경 됩니다.
이 글자크기로 변경됩니다.
(예시) 가장 빠른 뉴스가 있고 다양한 정보, 쌍방향 소통이 숨쉬는 다음뉴스를 만나보세요. 다음뉴스는 국내외 주요이슈와 실시간 속보, 문화생활 및 다양한 분야의 뉴스를 입체적으로 전달하고 있습니다.
After spending years in Europe and in North America, Lee Young-pyo returned to Korea to take on an administrative role after retiring from the pitch. In December 2020, he became Gangwon FC's CEO, the youngest in K League history.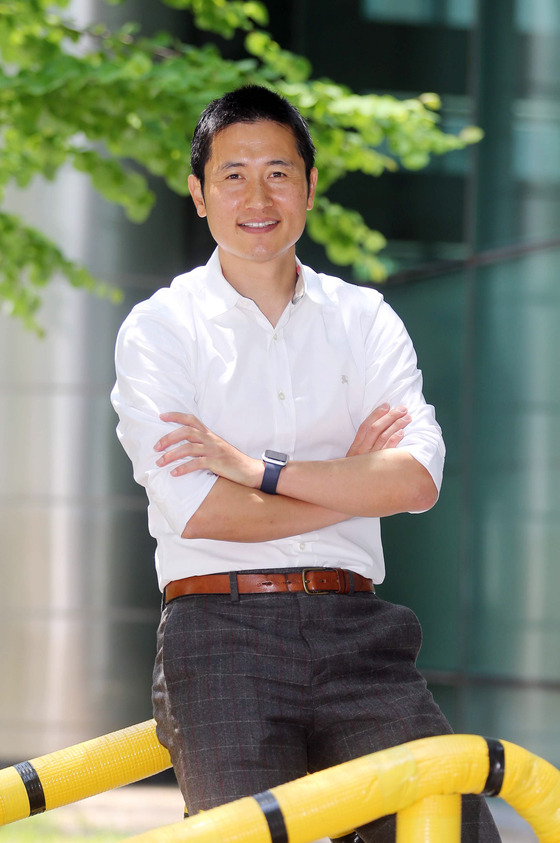 At 43 years old, Gangwon FC CEO Lee Young-pyo is the youngest chief executive in K League history.
Although Lee spent the majority of his footballing career overseas, his first love was always the Korean game. After playing three seasons for the Anyang LG Cheetahs, Lee headed to Europe to play for PSV Eindhoven from the 2002-03 season, before moving to Tottenham Hotspur, Borussia Dortmund and Saudi side Al Hilal.
Before hanging up his boots for good, Lee played two seasons for Vancouver Whitecaps FC.
After retiring in 2013, Lee continued to work in the industry, often appearing as a commentator and a punter for international matches.
But looking back at his career, Lee isn't happy with his contribution to Korean football.
"I've been selfish," Lee said.
As a result, he told himself that once he retires, he'll make sure to continue his career doing something that can help the domestic league. To do so, Lee decided on working on the administrative side of the sport. And he did just that, becoming the youngest-ever CEO of a K League club in December last year.
Below are edited excerpts of an Ilgan Sports interview with Lee.
Q. How are you doing these days?
A. I've been really busy. We're currently in the finishing stage of signing new players. I've received reports about the work [I have to do] and I am currently thinking about restructuring. I'm also in the process of working on the business.
Q. Becoming CEO could look like you're ruling out ever coaching. What do you think?
A. It may look like it, and I actually don't even have a coaching license. But being an instructor is an attractive job. More than anything, we get to be on the field. Being able to kick a football with the players is the most attractive part of all.
But the administrative side of the work was something that I wanted to do more [than being a coach]. I'm happy that I'm dong it.
Q. Did you accept the offer to be CEO right away?
A. To be honest, I have received offers to be CEO of a number of clubs over the past few years. I turned down the offers because I thought becoming CEO in my late 30s was too early. Since I had already received those offers, when Gangwon reached out, I wasn't too surprised. But I couldn't accept it right away. I accepted Gangwon's third request because that's when I thought I could do it.
Q. But why Gangwon?
A. Hongcheon in Gangwon is my hometown, but the most important thing is that the timing was perfect. When I received offers in the past, I didn't have enough knowledge. I thought that rather than football, I needed to learn business and experience it more.
It's different now. I've been involved in a start-up company for four years. Although it was a small company, managing it gave me an opportunity to experience marketing, operations, sales, fund management, taxes and everything else. This played a big role in allowing me to accept the position at Gangwon. By operating a company, I gained confidence.
Q. What's the plan for Gangwon?
A. I'm taking steps toward Gangwon becoming an elite club.
There are three requirements for it to be an elite club: First, it has to be good at football; Second, it needs to be an attractive enough club to be loved by fans; Third is the business — it has to be stable financially.
Q. What's your business philosophy?
A. There's one thing I can say with confidence. I'll be honest. It's obvious, but in the world right now sometimes it can be a surprise. For football to be better, it needs to show fair and clean administration. I'm going to become an administrator who can show everything to everyone. I'll be open [with all the work I do]. If I'm honest, then there's nothing wrong with it.
Q. There are times when the CEO gets involved in what happens on the field? Do you plan to be involved?
A. In terms of playing, there's only one thing I can do — sign players that our head coach wants. There's no reason for me to bring a player in that our head coach doesn't want. Aside from that, there's nothing I can do.
Since I spent a lot of time in Europe, I can clearly differentiate the roles. I know the difference between what the CEO has to do and what they should never do. The responsibility and authority of the CEO and head coach do not overlap. I have no intention of invading the head coach's authority.
Q. You've spent time and played football in Europe and North America. Which model of business administration will Gangwon take?
A. In Europe, football is life. In the United States, if fans can enjoy it, then they are willing to embrace football. It's the difference in culture and how they view [football].
Marketing strategies that work in Britain may not work at all in the United States. Also, a successful event in the United States may not work in Korea. It's important to pick up on the difference in culture and views of the countries. I'll make a reason [for fans to] watch Gangwon matches. To do so, we need to communicate with fans. I'm jealous of teams that have strong support.
Q. When can we start seeing the change in Gangwon?
A. We'll need more time. If we play well or suddenly see a lot of fans and make a lot of money this season, it'll be a coincidence. It won't really be ours. If we earn something easily, then we'll lose it easily.
If we start building the right system now, then we'll become an elite club in the next 10 or 15 years. I'll try to find ways for us to become a strong team. We'll have to build our own football field.
The present is important and the most important thing now is to be good at football.
Q. A lot of people have high expectations. How do you feel?
A. Team's regulations and the team itself changes depending on the board members. That's why elite clubs fall apart all of a sudden, and a club that's reached the bottom builds its way back up. But none of these things change because of one person. Everyone has to work together to change.
If Gangwon doesn't change from now on, then it'll be my fault. But if Gangwon develops, then its thanks to the help of all the board members and staff.
Q. Since you started your new career as an administrator, some people thought you were given too big of a responsibility. How did you feel about that?
A. It's true. There are times where I feel more responsible. A lot of people are paying close attention to me. They'll pay close attention as to what happens when a former footballer takes on an administrative role. If our team is heading in the right direction, then there will be more former footballers taking on administrative roles. On the other side, if I don't do well then it'll look like footballers have their limits. I'll be working hard.
Q. Now you're in a position where you have to prove your ability. Are you ready for the challenge?
A. I could get a lot of negative comments, but one thing I can say is that I am ready to tell everyone the reason why football clubs exist. Sport was created to give joy to people who are tired of their daily lives. To the tired citizens of Gangwon and the fans, Gangwon has to give joy. They need to play well and make a lot of money so the fans feel happy. I'll find ways to make this happen.
Q. Aren't you afraid of failure?
A. Back when I was a professional player, I experienced a lot of failure when I played football in Korea, Europe and the United States. I learned a lot from that. I though about what it would be like to work for a [football] club. Rather than the fear of failing, I have more expectations of improving Gangwon. My goal is to make more Gangwon fans smile.
Q. How did you feel as you were heading close to retirement, and what made you decide on this career path?
A. A few years ago when I was getting close to retiring, I found myself counting down the days. I looked back at my football career telling myself 'this is my last training, last meal, last home game." I received a lot of love. But I didn't really do anything for Korean football.
I blamed myself, asking myself what did I do to receive this much love. I could only think of myself working hard to make money and to become a famous footballer. I thought that I was very selfish. After going through many different thoughts, I told myself that I'd find a job that'll help Korean football.
BY CHOI YONG-JAE [kang.yoorim@joongang.co.kr]