[News analysis] Breaking down Park Geun-hye's 22-year sentence for influence peddling
한겨레
입력

2021. 1. 15. 17:56
글자크기 설정
파란원을 좌우로 움직이시면 글자크기가 변경 됩니다.
이 글자크기로 변경됩니다.
(예시) 가장 빠른 뉴스가 있고 다양한 정보, 쌍방향 소통이 숨쉬는 다음뉴스를 만나보세요. 다음뉴스는 국내외 주요이슈와 실시간 속보, 문화생활 및 다양한 분야의 뉴스를 입체적으로 전달하고 있습니다.
Describing the scandal as "Samsung gate" would be more accurate than "Choi Soon-sil gate"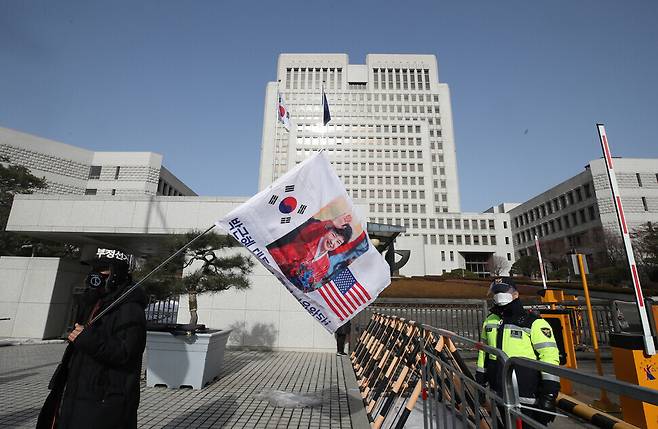 After four long years, the last appeal has ended in the trial of former President Park Geun-hye, aged 69. Park was removed from her post amid candlelit rallies triggered by her exploitation of the powers of her office on behalf of a secretive advisor. On Jan. 14, the third panel of the Supreme Court, under Rho Tae-ak, upheld Park's convictions for bribery, abuse of power, and inflicting loss on the state treasury, which carry a sentence of 20 years in prison.
Combined with a two-year sentence already handed down for Park's interference in the nomination of party candidates, Park faces 22 total years in prison — with 19 years left to serve, since she was taken into custody on Mar. 31, 2017.
The Supreme Court upheld the lower court's sentence of 15 years in prison and an 18 billion won (US$16.4 million) fine for bribery, including billions of won from Samsung and Lotte and 200 million won (US$181,934) in special activity funds from former National Intelligence Service (NIS) Director Lee Byeong-ho, as well as five years in prison and 3.5 billion won (US$3.2 million) in forfeiture for causing loss to the state treasury by taking 3.45 billion won (US$3.1 million), once again from the NIS' special activity budget.
The Supreme Court's ruling represents the final legal judgment in Park's influence-peddling scandal. Park and the party to which she belonged have already faced a string of political judgments, including the National Assembly's adoption of articles of impeachment in December 2016, the Constitutional Court's acceptance of those articles in March 2017, and the opposition Democratic Party's string of victories in the presidential election in May 2017, the local elections in June 2018, and the parliamentary elections in April 2020.
What are the main points of this case? First, the cozy ties between the political and business worlds. On this point, it's worth listening to the opinion of Kim Chong-in, chair of the emergency committee of the People Power Party, in his memoir "No Power Is Eternal," published in 2020.
"Park Geun-hye's impeachment was also a repudiation of the unseemly relationship between business and politics, a relationship whose roots go way back. While there were several reasons that Park was impeached, one of the decisive factors was her collusion with the family that controls the Samsung Group," Kim wrote.
"When it became clear to Samsung that some kind of collusion with the government was needed to pass on control of the group from Lee Kun-hee to Lee Jae-yong, it sought out close allies of Park and tried to lobby them to sway her actions. While the press often called the scandal 'Choi Soon-sil gate,' I think calling it 'Samsung gate' would be a more accurate expression of what actually happened."
Those who actively seek to give bribes need to feel the full force of the law. A high court that's reviewing the case of Samsung Electronics Vice Chairman Lee Jae-yong is scheduled to announce its sentence on Jan. 18. If the court gives Lee a suspended sentence, that will mean the chaebol has been let off easy and Park has been left to shoulder all the responsibility for the crime. We'll see what happens.
The second dominant feature of this case is the crimes of a president. The statute of limitations is suspended when a president is in office. What that means is that presidents who commit crimes while in office can be prosecuted once they leave. This applies to all future presidents.
The president is the commander in chief and the head of the executive. All the president's instructions carry the risk of being an abuse of power. We need to think carefully about the extent to which the president's actions can be labeled an abuse of power.
Now that the case has concluded, what are our tasks going forward? First, we need to constrain the power of capital. Capitalistic power capital has already grown stronger than political power. If we can't bring capital under control, it could pose another threat to our national community at any time.
The second task is reorganizing our power structure. This influence-peddling scandal was made possible by the presidential system, but that system is still preferred by the Korean public. I'm not sure what to do about that.
The third challenge is whether or not to pardon Park, as well as former President Lee Myung-bak. It's embarrassing to have two former presidents in prison. That represents a clash between the two values of justice and national dignity.
South Korean President Moon Jae-in, who has the authority to give pardons, is supposed to express his opinion in his New Year's press conference. I wonder what he'll say.
Please direct comments or questions to [english@hani.co.kr]
ⓒ 한겨레신문사, 무단전재 및 재배포 금지