LG, SK's battery biz butt heads over US patent nullification suit
입력

2021. 1. 15. 17:35
수정

2021. 1. 18. 09:13
글자크기 설정
파란원을 좌우로 움직이시면 글자크기가 변경 됩니다.
이 글자크기로 변경됩니다.
(예시) 가장 빠른 뉴스가 있고 다양한 정보, 쌍방향 소통이 숨쉬는 다음뉴스를 만나보세요. 다음뉴스는 국내외 주요이슈와 실시간 속보, 문화생활 및 다양한 분야의 뉴스를 입체적으로 전달하고 있습니다.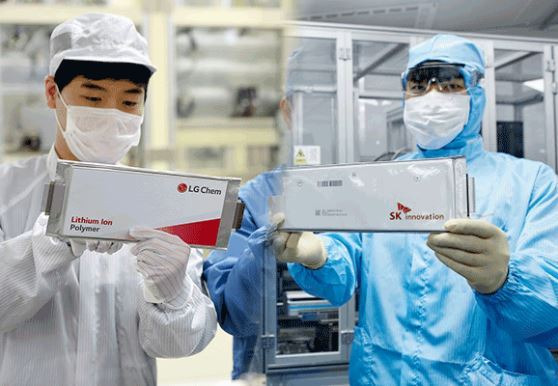 LG Energy Solution and SK Innovation are yet again butting heads, this time over freshly launched inter partes review they both filed against each other at the US Patent and Trademark Office.
An inter partes review is a trial proceeding conducted at the Patent Trial and Appeal Board of the US Patent and Trademark Office. The IPR looks at the patentability of a matter brought to attention.
The patent dispute is one of the many legal fights the two Korean rivals are embroiled in. The tension has only escalated ahead of an imminent final determination by the US International Trade Commission on a trade secret dispute, which has been the main point of contention between LG Energy Solution and SK Innovation.
On Thursday, LG Energy Solution said that the eight trade nullification claims SK Innovation raised against them had been revoked, using that as evidence to show the futility of SK Innovation's claims. SK Innovation however denied LG Energy Solution's interpretation of the matter, saying that the rejection was only a result of changed regulations at the US' patent office.
Another similar claim raised by LG Energy Solution against SK Innovation, however, is currently under investigation, LG Energy Solution said.
According to SK Innovation, the US patent office has been turning down cases that overlap with the US' ITC suits. Should the schedule of the ITC's final ruling precede that of the patent office's, the latter would automatically reject the complaint.
LG Energy Solution in turn questioned the legitimacy of SK Innovation's refutation, as the latter had gone the extra length of paying to file the complaints even after the said regulatory changes took place.
LG Energy Solution vowed to protect its more than 27,000 battery-related intellectual properties, underlining their importance to the energy business.
The ITC is set to deliver its final verdict on the case on Feb. 10.
By Lim Jeong-yeo (kaylalim@heraldcorp.com)
Copyrightⓒ Herald Media INC. All rights reserved.