Moon's New Year's live press conference goes virtual on Jan. 18
입력

2021. 1. 15. 15:44
수정

2021. 1. 15. 17:43
글자크기 설정
파란원을 좌우로 움직이시면 글자크기가 변경 됩니다.
이 글자크기로 변경됩니다.
(예시) 가장 빠른 뉴스가 있고 다양한 정보, 쌍방향 소통이 숨쉬는 다음뉴스를 만나보세요. 다음뉴스는 국내외 주요이슈와 실시간 속보, 문화생활 및 다양한 분야의 뉴스를 입체적으로 전달하고 있습니다.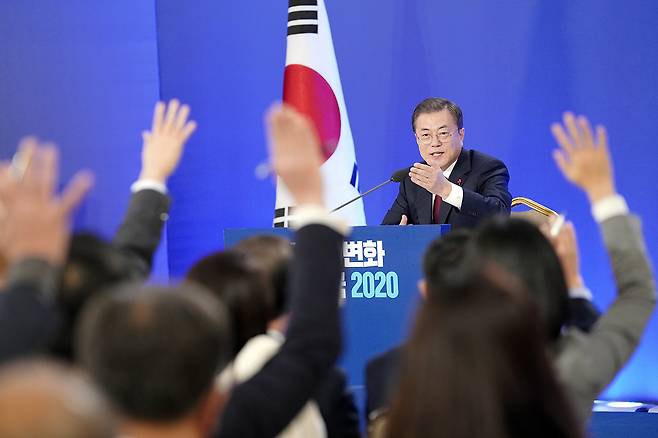 President Moon Jae-in's New Year's press conference is going virtual for the first time due to the COVID-19 pandemic, according to Cheong Wa Dae on Friday.
The live event will be held Monday at the Chunchugwan press center of Cheong Wa Dae from 10 a.m. for one hour and 40 minutes.
A total of 120 journalists will be in attendance for the press conference, with 100 of them joining via video link. Just 20 journalists who were picked by lottery will meet face-to-face with the president at the conference room.
President Moon previously held a New Year's press conference at a room packed with some 300 journalists following his New Year's address on the same day. But this year some adjustments were unavoidable due to the tightened social distancing rules. The president delivered his New Year's speech on Jan. 11.
Moon enters his final year in office in May this year, having begun his term in May 2017, and has held a live press conference every year under the "Three No" rules -- no questionnaire, no scripting and no editing.
Adding to uncertainties this year will be the internet connection during the unprecedented virtual event. The presidential office planned to hold four rehearsals with journalists to make sure all their internet connections are stable and every voice can be heard clearly.
Beyond the technical issues, the president is expected to be bombarded with tough questions this year, with a slew of pending issues from coronavirus vaccines to possible pardons of the two jailed former presidents and the soured inter-Korean relations likely to be addressed.  
By Lee Ji-yoon (jylee@heraldcorp.com)
<ⓒKoreaHerald(www.koreaherald.com)무단전재 및 재배포 금지>
Copyrightⓒ Herald Media INC. All rights reserved.