Bolognese meets Burgundy at Hugo Dosan
입력

2021. 1. 9. 16:01
수정

2021. 1. 10. 09:16
글자크기 설정
파란원을 좌우로 움직이시면 글자크기가 변경 됩니다.
이 글자크기로 변경됩니다.
(예시) 가장 빠른 뉴스가 있고 다양한 정보, 쌍방향 소통이 숨쉬는 다음뉴스를 만나보세요. 다음뉴스는 국내외 주요이슈와 실시간 속보, 문화생활 및 다양한 분야의 뉴스를 입체적으로 전달하고 있습니다.
New all-day-dining spot serves up toothsome pasta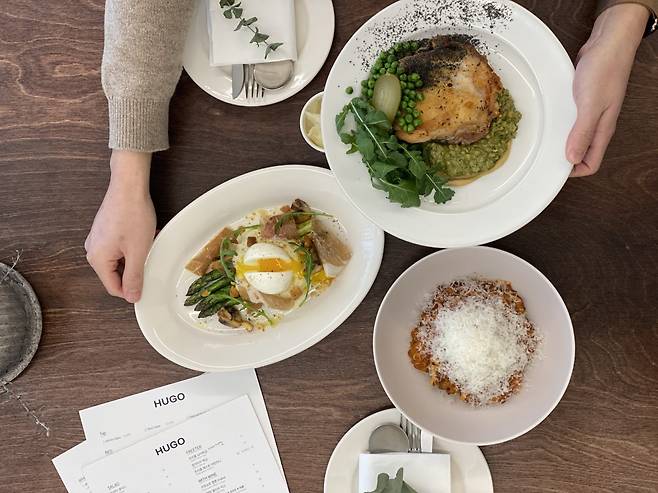 At Hugo Dosan, a new addition to Seoul's dining scene, chef Hugo Won serves up his take on pasta.
After learning the ropes at Le Cordon Bleu in Paris, Won racked up experience at two Michelin-starred restaurants before striking out on his own.
Fast-track to Nov. 12, when Won and his friend soft-opened Hugo in Sinsa-dong.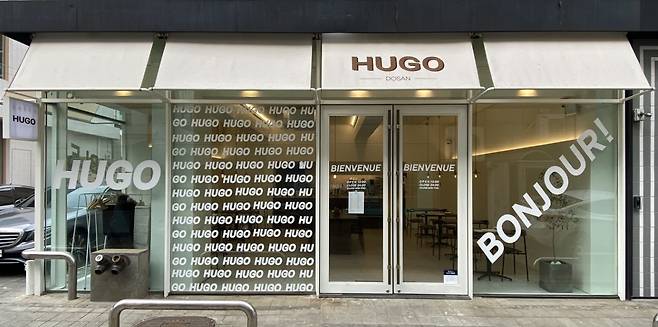 We wanted to create "a comfortable space where one could enjoy food and wine," Won, 29, explained in an email interview.
Won added that he and his friend dreamed up a space where one could enjoy brunch during the day and wine-friendly food at night.
Indeed, the menu features everything from open-faced sandwiches to fritters as well as several pasta dishes; and it is the pasta that remains particularly memorable, due in part to the subtle, toothsome approach that chef Won takes with this ever-popular carb.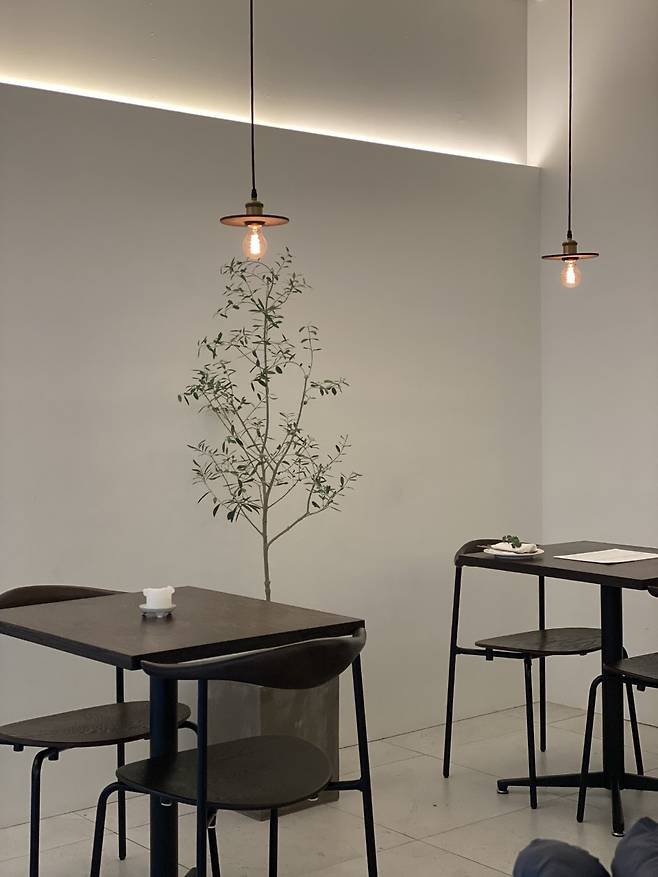 Chef Won's version of the Italian classic, Bolognese, for instance, may appear like a standard take on the dish but there is a depth to the sauce, a richness that is neither too heavy nor lacking in complexity that keeps one digging for forkful after forkful of this pasta.
"We make our own version of Bolognese sauce, one that exhibits an appropriate amount of acidity," said Won.
"The base of the sauce is Italian, but the method of cooking is French," Won revealed, elaborating on his use of red Burgundy wine to deglaze the pan when sauteing the beef for the sauce.
The meeting of Burgundy wine with this stew-like beef sauce brings to mind beef bourguignon, the French beef stew often made with red Burgundy wine, and makes Won's decision to christen his dish Bourguignon Bolognese apt indeed.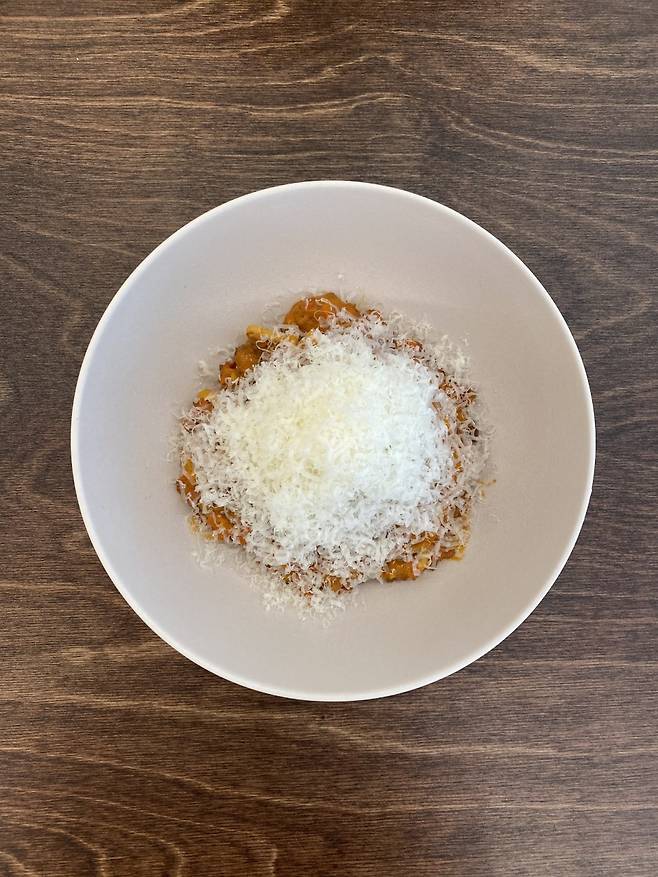 The sauce itself seems to gain some of its umami depth from when all those caramelized beef bits get infused with the red wine during the deglazing process, and pasta takes a back seat in this interpretation of Bolognese.
Instead of the traditional tagliatelle usually paired with Bolognese sauce, Won opts for spaghetti.
The thinner coils of pasta play second fiddle to the luscious sauce, amping up the stew-like allure of this dish, a hearty panacea to these cold winter months.
Won also spins out a beautiful take on ubiquitous mushroom cream pasta, using frilled ribbons of tripoline pasta for the dish.
"The ruffled nature of the pasta allows it to catch the sauce well and is ideal for cream pasta," Won explained.
Similar to mafaldine pasta, which has frills on both sides, tripoline, however, only sports frills on one side.
If both sides had been ruffled, the sauce might have become overpowering, but with one side enriched by the creamy sauce and the other side more naked, one can enjoy both the umami potency of the mushrooms and the al dente chew of the pasta itself.
Won focuses on aromatic mushrooms for this dish, using porcini mushrooms and white truffle oil to create an uber-fragrant pasta.
Of all his pasta dishes, Won takes great pride in his mitra squid caper pasta.
"The soft mitra squid and the aromas of various herbs, the fire from the peperoncino and the salinity of the capers create a harmony that I feel exhibits the best balance of the pasta dishes at our restaurant," Won said.
In addition to pasta, Won also whips up crisp calamari and plump arancini stuffed with Emmenthal and mozzarella cheese as well as crisp herb roasted chicken.
Won stressed that Hugo is still a work in progress and there are more changes to come to both the interior and food through the end of January, when Hugo will transition from its soft opening period to an official launch.
Hugo Dosan
106, 647-14 Sinsa-dong, Gangnam-gu, Seoul
Open noon till 9 p.m. daily, closed Mondays and Tuesdays
(070) 4105-7166; @hugo_dosan
Salads cost 16,000 won to 23,000 won, pasta costs 19,000 won to 34,000 won, meat-based dishes cost 29,000 won to 59,000 won, fritters cost 6,000 won to 14,000 won, and dessert costs 8,000 won to 9,000 won.
All dishes can be ordered to go in advance by phone for in-store pick-up.
By Jean Oh (oh_jean@heraldcorp.com)
Copyrightⓒ Herald Media INC. All rights reserved.