SK Group to invest US$1.47 billion in US hydrogen fuel cell firm
글자크기 설정
파란원을 좌우로 움직이시면 글자크기가 변경 됩니다.
이 글자크기로 변경됩니다.
(예시) 가장 빠른 뉴스가 있고 다양한 정보, 쌍방향 소통이 숨쉬는 다음뉴스를 만나보세요. 다음뉴스는 국내외 주요이슈와 실시간 속보, 문화생활 및 다양한 분야의 뉴스를 입체적으로 전달하고 있습니다.
Joint venture with Plug Power will try to break into energy markets in China, Vietnam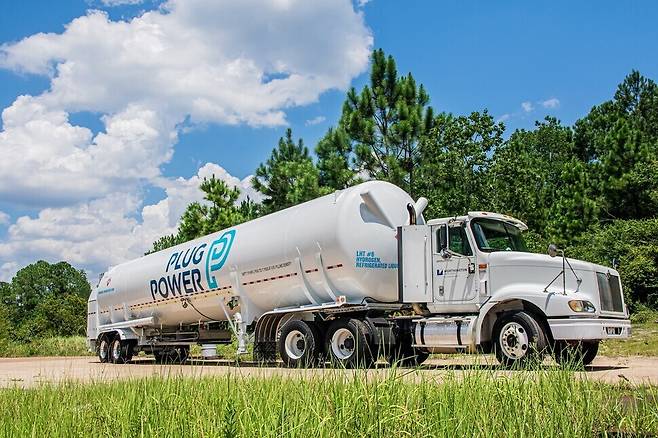 The SK Group plans to invest 1.6 trillion won (US$1.47 billion) in Plug Power, a US-based hydrogen fuel cell firm. SK plans to set up a joint venture with Plug Power to break into the hydrogen energy markets in China, Vietnam and other Asian countries.
SK and its affiliate SK E&S announced on Jan. 7 that they will acquire a 9.9% stake in Plug Power, a company with global hydrogen operations, making them the biggest shareholders in the company. SK and SK E&E will make a joint investment worth US$1.5 billion, with each company contributing around 800 billion won (US$734.4 million).
Established in 1997, Plug Power has mastered a number of key technologies in the hydrogen value chain, including automobile fuel cells, electrolyzers (a key device in water electrolysis, or running electricity through water to produce hydrogen), liquid hydrogen plants, and technology for building hydrogen fueling stations. As of the end of 2020, Plug Power had a market cap of about 16 trillion won (US$14.68 billion).
Plug Power has a proven track record in the hydrogen-based mobility industry, which includes forklifts and trucks that run on fuel cells. The company has basically cornered the market on fuel cell forklifts in the US, holding exclusive supply contracts with multinational distribution firms such as Amazon and Walmart.
In recent years, Plug Power has leveraged a network of hydrogen fueling stations built across the US to enter the mid-size and large truck market. It also seeks to diversify hydrogen fuel cell applications into drones, aircraft, and power generation and to move into the European market.
Through this investment, SK plans to exploit synergy between the two companies to pursue dominance in the Asian hydrogen market. SK's strategy is to use Plug Power's technical expertise to accelerate its construction of a hydrogen ecosystem in South Korea, and to seize new opportunities for business development using the SK Group's network in China and Vietnam.
SK also intends to fine-tune its business model by setting up a joint venture with Plug Power through which the two companies can move into the Asian hydrogen market.
"At the moment, the two companies have only formed a partnership with the goal of setting up a joint venture. No decisions have been made yet about the additional funding that would be needed for the joint venture," an SK spokesperson said.
SK has set up a task force charged with promoting hydrogen-related projects. The task force is staffed with 20 experts from related affiliates, including SK Innovation, SK Engineering and Construction and SK E&S, a company that provides energy solutions.
SK intends to focus on expanding its hydrogen operations into a major next-generation energy business. That will involve building the capacity to produce 280,000 tons of hydrogen a year by 2025, ramping up from 30,000 tons in 2023, and setting up a value chain that spans the production, distribution and supply of hydrogen.
"By taking the lead in building an ecosystem for hydrogen, which is regarded as a next-generation source of eco-friendly energy, we will establish ourselves as a pioneer in environmental, social and corporate governance," said SK in a statement.
By Cho Kye-wan, staff reporter
Please direct comments or questions to [english@hani.co.kr]
ⓒ 한겨레신문사, 무단전재 및 재배포 금지