Mercedes-Benz Korea expands logistics center
글자크기 설정
파란원을 좌우로 움직이시면 글자크기가 변경 됩니다.
이 글자크기로 변경됩니다.
(예시) 가장 빠른 뉴스가 있고 다양한 정보, 쌍방향 소통이 숨쉬는 다음뉴스를 만나보세요. 다음뉴스는 국내외 주요이슈와 실시간 속보, 문화생활 및 다양한 분야의 뉴스를 입체적으로 전달하고 있습니다.
The W35b project raises parts fill rate to 99 percent, adopts automated inventory management system
Mercedes-Benz Korea, a local importer and distributor of German luxury cars, has expanded its logistics center in Anseong, Gyeonggi Province, 150 kilometers south of Seoul, the company said Wednesday. The changes required a 35 billion won investment.
The logistics center opened in 2014 and its space has doubled from 17,800 square meters to 30,500 square meters after the yearlong project. The expanded center can house about 50,000 kinds of spare parts, as compared with 28,000 before the expansion, raising the parts fill rate to 99 percent, the company said in a statement. Auto parts from the Anseong logistics center supply 89 service centers in South Korea.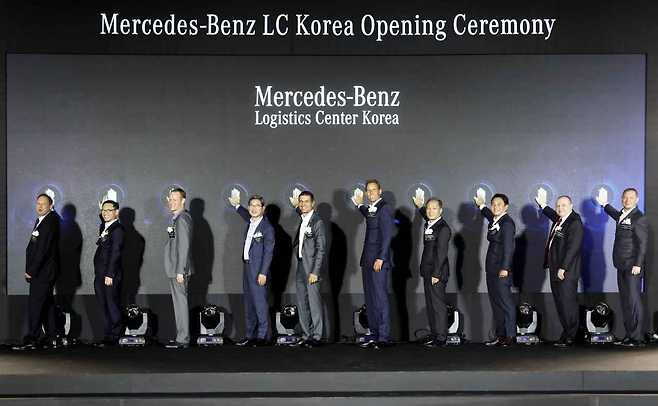 The center also adopted advanced technology and operating systems to reduce working time and enhance work efficiency, the company said. It has introduced an automated forklift truck that uses sensors to detect the location of a particular part. Its inventory management system also underwent changes, reducing the time needed to acquire parts by maintaining an optimal inventory in Korea.
"With this site, we will improve parts availability and enhance work efficiency through the most advanced Inventory Management System," stated Klaus Ziemsky, director of global parts logistics operations with Daimler AG, who visited Korea to attend the opening ceremony. "Thus, we are confident that our logistics investments will continue to strengthen our foundation to grow our business in Korea."
The center employs a staff of 100, contributing to Anseong's regional economy, it added.
"Mercedes-Benz Korea prioritizes customer satisfaction and plans to further strive for better service quality through continuous investment in Korea," said Dimitris Psillakis, president and CEO of Mercedes-Benz Korea. "We are also happy to contribute to Anseong's local community with industrial development and job creation."
By Cho Chung-un (christory@heraldcorp.com)
<ⓒKoreaHerald(www.koreaherald.com)무단전재 및 재배포 금지>
Copyrightⓒ Herald Media INC. All rights reserved.